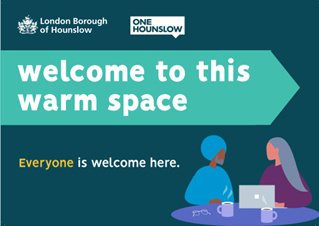 The Museum opens to Hounslow residents as a Warm Space
The Museum opens to Hounslow residents as a Warm Space
We're thrilled to share we're working with Hounslow Council and Our Barn to open a warm space to help local people who can't afford to heat their home this winter.
What's on offer as a Warm Space:
· Entrance to the Pump & Grind Café with free tea and instant coffee available.
· Pre-bookable workspace in the Community Meeting Room (please note this is up a flight of stairs)
· Pre-bookable play or meeting space for local groups in the Babcock Room. Please email [email protected] for more information.
· Free wi-fi.
We're open as a warm space when the Museum is open Thursday to Sunday 10:00 – 16:00.
The Museum and café will be closed for the Christmas period from Monday 19th December and will reopen on Saturday 31st December.
A big thank you!
The Museum is extremely grateful to Hounslow Council for their financial support to provide resources to open as a Warm Space.
As part of the funding received, the Museum has worked with our community partner, Our Barn, paying them for free self-service tea and instant coffee from the Pump & Grind café. The café will be open as normal serving hot and cold food and drink 10:00 until 15:30, with hot food served until 15:00.
More Warm Spaces are available around the borough
To find out more about warm spaces around the borough you can visit www.hounslow.gov.uk/warmspaces. For information about some of the other support available locally please visit www.hounslow.gov.uk/costofliving.