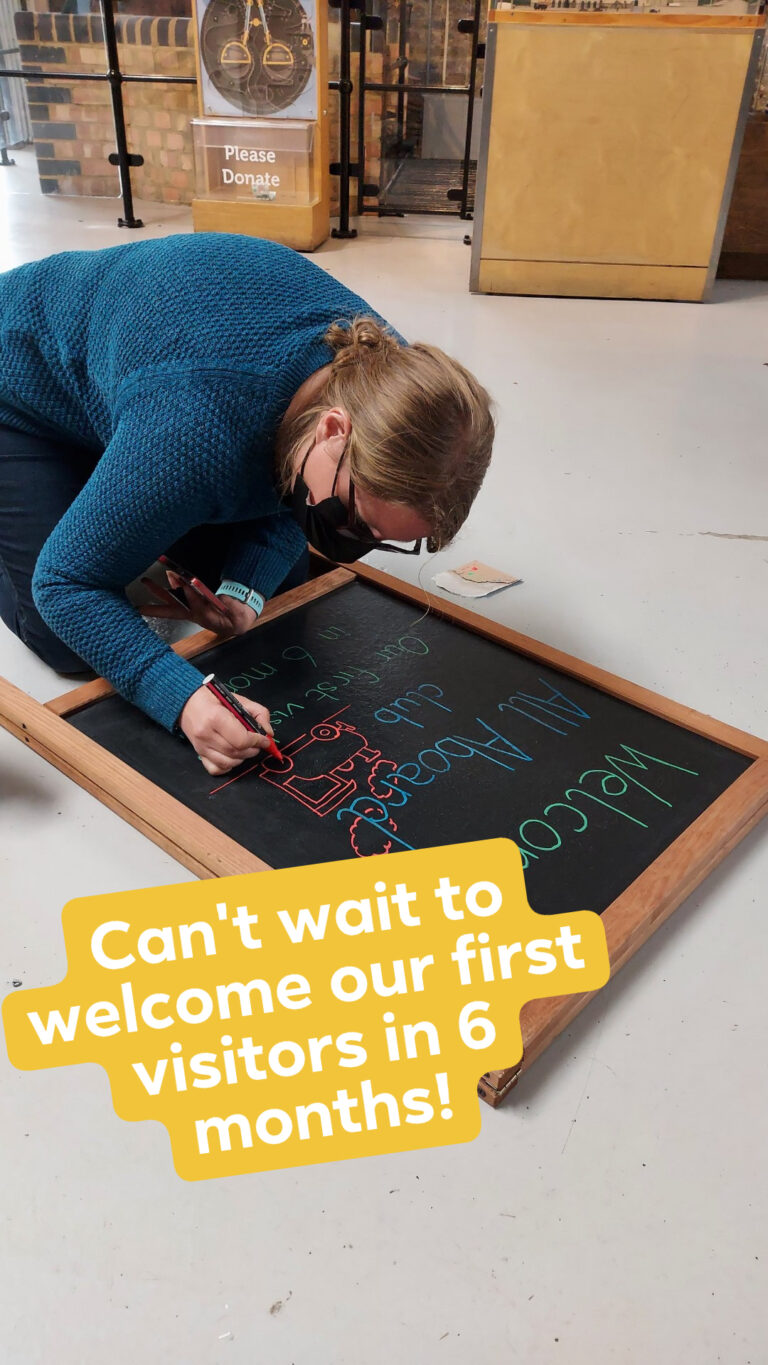 29th May 2021, a day to never forget as we re-opened the doors of the Museum to the public, after our longest closure of the pandemic, almost 6 full months. That lockdown had been the toughest of them all for the Museum team. We felt we had lost the moment we had built up to our first re-opening in October 2020, as well has having project half done, and much needed funding half spent. Our biggest hope on that day final re-opening day was that we would be able to stay open and not closed the Museum again. Our wish came true and what a year it has been!
From the moment we opened the doors our visitors have started coming back. Regular visitors, babies before the pandemic now returned as confident toddlers, heading down the ramp as their parents tried to catch up. New visitors, wanting to try out something in their local area. Adults keen to visit somewhere so important to them and have the feeling that normal had come back. Over the last year we have welcomed 15,000 visitors to the Museum, and they have found new programming and activities for families,  a restored Boulton and Watt engine back in action and a wonderful new café, in our partner Our Barn who now use the café as a training space for young people with learning disabilities.  We opened the Brentford FC exhibition bringing in more new visitors to the Museum, a really different use of our spaces.
The re-opening did not mean that everything was back to normal. With reduced staffing and Covid still a very real problem, we were delighted to welcome new members of the staff team as the year went on: Mathew, Giovanna, Peter and Sjoera. This extra support has taken some of the pressure off the staff team, which is still running at a reduced capacity. Only being open on limited days, did not stop our visitors returning. In fact we have just seen people coming in larger numbers each day, than we did before the pandemic. Despite this, at Christmas it felt like things were going backwards, with Omnicom meaning that we had to cancel our plans. However we where still able to open for the steam up in the new year, which was a great relief to us all.
So a year on, we find ourselves with a Museum once again full of community groups, school, volunteers and visitors. And with so many exciting things starting to happen, from the opening of our new wild play space, schools in Hounslow able to use our bursary scheme to visit, a new STEM club for young people being planned, and young people's volunteering as part of Steam Team.
I would like a say a massive thank you for all the support we as a staff have received over the past year, from our volunteers, members, funders, partners and trustees. And to the staff team, we have done it, reopen a whole year! We have grown, learnt and laughed at lot, shed a few tears along the way but we have kept the Museum going, and for that thank you will never be enough.
Liz, Museum Director