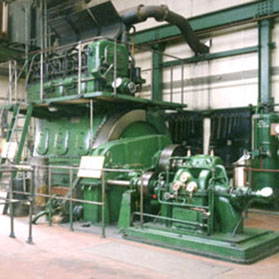 Allen Diesel Engine
The Allen Diesel Engine is one of four originally installed at Kew Bridge. The engines were installed to meet extra demand during the summer months and, along with electrical pumps, to replace the steam engines when they retired during the 1940s.
Our diesel engine is a three cylinder, 4-stroke engine, coupled to a centrifugal pump.
It has many feaures in common with more modern diesel engines, including a fully enclosed crankcase, but still has an external flywheel.
| | |
| --- | --- |
| Date of manufacture | 1935 |
| Cylinder Diameter | 13.5 inches (350 mm) |
| Stroke | 18.5 inches (470 mm) |
| Water output per minute | 1000 Gallons (4546 litres) |
| Water output per 24 hours | 1.4 M Gallons (6.3 M litres) |
| Revolutions per minute | 333 |
| Last worked | 1985 |
| Restored to work | 1986 |